Welcome home to the KAPIHAN Network!

The KAPIHAN Network is a multilingual worldwide digital amateur radio system consisting of linked TGIF Network & FreeDMR Network DMR, Wires-X Room, YSF, FCS, XLX, P25,NXDN, M17, Peanut, DVSwitch HUC, AllStarLink, Hamshack Hotline and Echolink reflectors, talkgroup and repeaters—connecting licensed amateur radio operators worldwide.

Created and maintained by N6DOZ Rudy, the KAPIHAN Network's goal is to have an inclusionary wide network system that enables licensed amateur radio operators to connect and have QSOs worldwide—while utilizing different digital and analog modes, free of politics and polarizing issues.

Below is a quick look at the network topography - Digital & Analog: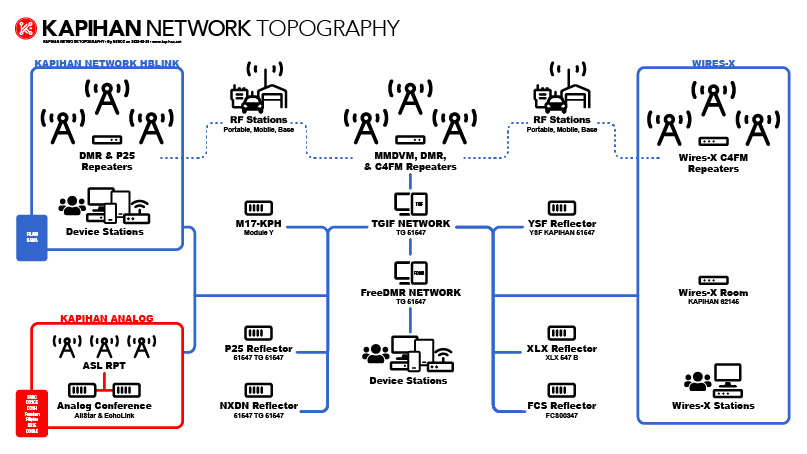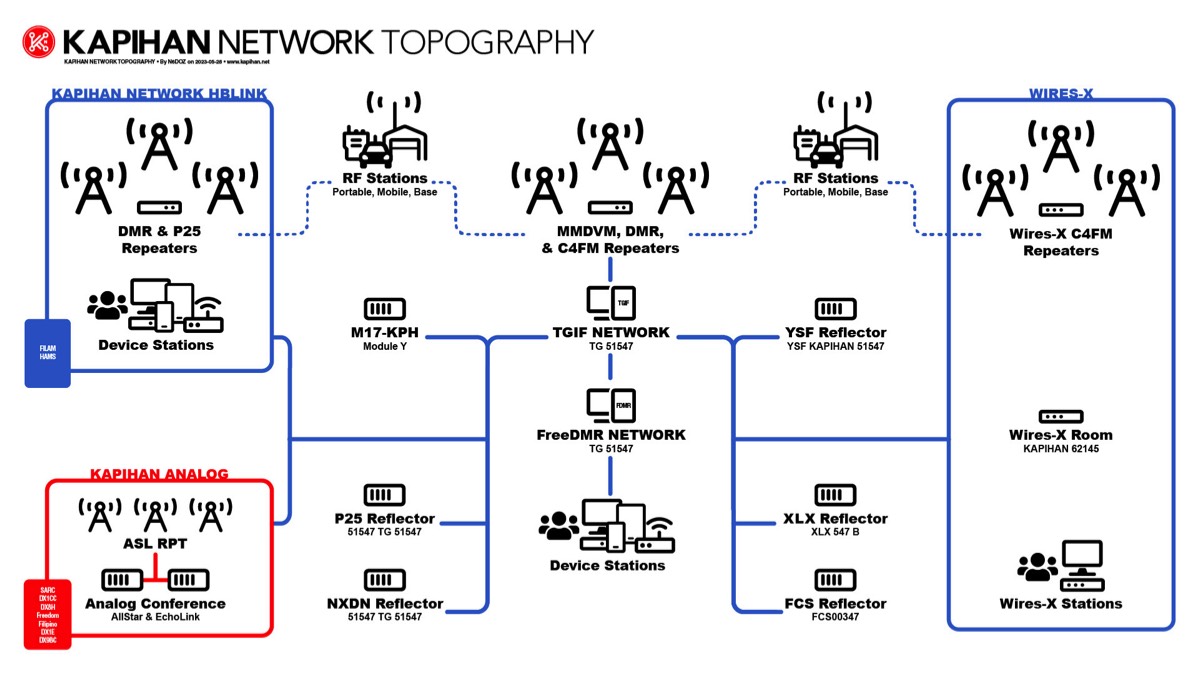 Below is a basic view of the network's analog segment.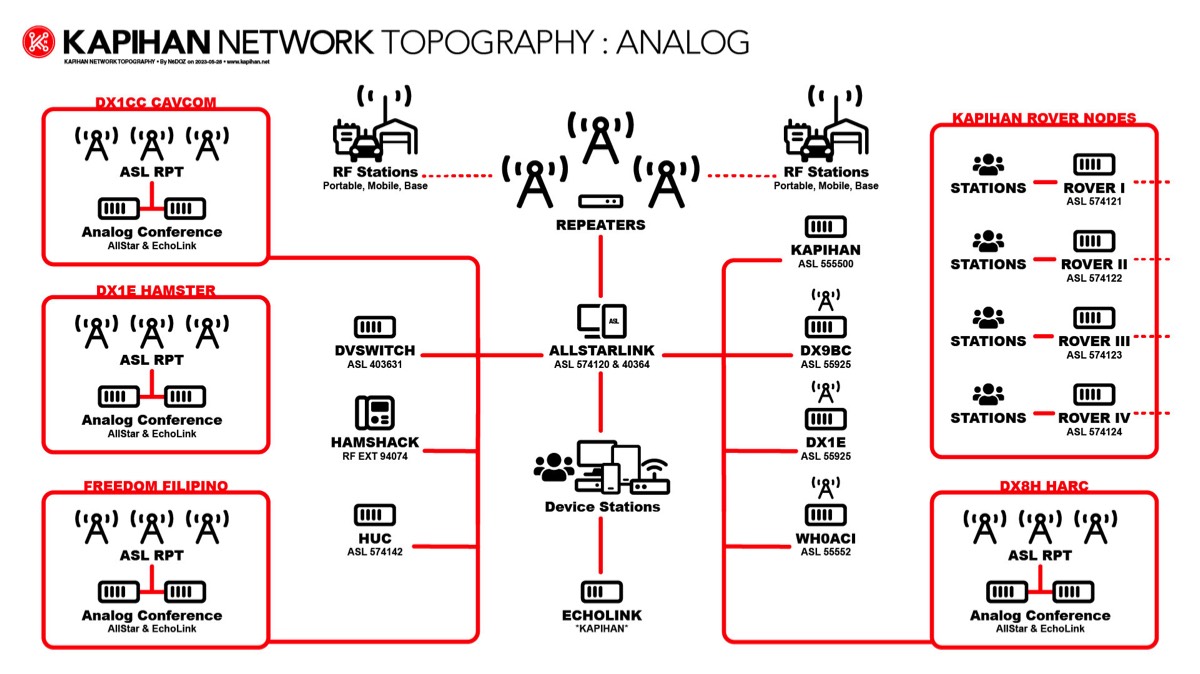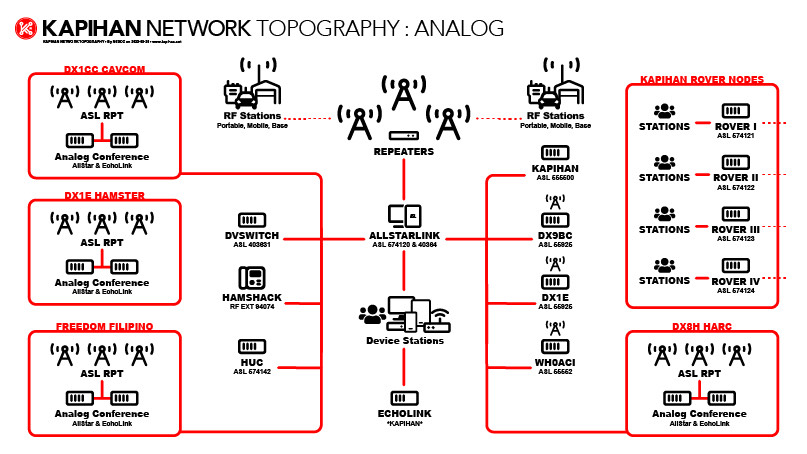 Come visit us through the local repeaters or through your personal hotspots.

Until our next QSO - 7-3 and mabuhay!


Would you like to…

CHANNELS:
DMR:
51547 TGIF.network
DMR:
51547 FreeDMR
Wires-X:
KAPIHAN 62145
FCS:
FCS00347 KAPIHAN
YSF:
KAPIHAN 51547
D*STAR:
XLX547 B
M17:
M17-KPH Y
Peanut:
PH / DMR51547
P25:
51547
NXDN:
51547
AllStar Link:
40364
Echolink:
*KAPIHAN*
HH Extension:
94074
HUC:
https://huc.kapihan.net
HUC:
https://dmr.kapihan.net
Info on the KAPIHAN HUC
NETS:
KAPIHAN Morning Quick Net
Monday & Wednesday
5:00am California DST | 9:00pm Philippines
TGIF KAPIHAN Net
Friday, 5:00pm California DST
Saturday, 9:00am Philippines
KAPIHAN Digital Net
Saturday, 5:00pm California DST
Sunday, 9:00am Philippines
+
Net info and schedules
+
Net Archives
KAPIHAN DATABASE
Station Callsign
Pinoy Hamshack Directory
eQSL CARDS:
+
KAPIHAN Quick Net 2023 - Part 2
+
KAPIHAN Quick Net 2023
+
KAPIHAN Hump Day One eQSL
+
KAPIHAN Digital Net 2023
+
SARC Digital Net eQSL 2023
+
SARC Digital Net Hump Day eQSL 2023
+
TGIF KAPIHAN Net Regional eQSL
+
DX2AFP Evening Net 2023
+
DX2BSP Afternoon Net 2023
+
DX2BSP Morning Net 2023
+
DX3T Morning Net 2023
+
DX8H Evening Net eQSL Cards 2023 - Part 2
+
DX8H Evening Net eQSL Cards 2023 - Part 1
+
DX8H Moving Forward 2023
+
DX9BC Evening Net eQSL Cards 2023
+
Evenings with Kat & Rufo eQSL Cards 2023
+
All Current eQSL Cards for 2023
Other eQSL CARDS:
+
Special Nets
+
eQSL Archives from previous years
ACHIEVEMENTS:
+
Amateur Radio Digital Net Pro
+
Let's Get Digital
+
Beverage Club
+
Perfect Attendance
LISTEN TO US:

With a 20 second delay